WHEN IS ROOT CANAL TREATMENT ADVISED?
Root canal treatment is needed when the infection has crossed the upper layers and entered deep within the tooth. When the pulp, which is the innermost layer inside the tooth becomes infected with bacteria or gets inflamed because of an injury or because of severe untreated cavity, a root canal is the preferred treatment modality for saving the tooth.
Avoiding this treatment can result in infection becoming severe which might spread into the bone beneath creating a situation where tooth removal is the only choice left.
The most common symptom(s) that may indicate the need for a root canal treatment is -
Tooth pain: The intensity of the pain can range from mild to severe; it may lessen or intensify throughout the day, or it may get worse only when you bite down on the tooth.
Sensitivity in Tooth & Gums: Some patients experience prolonged sensitivity to hot or cold food & liquids. Gums may also feel tender and swollen near the problem area.
Food Lodgement: Regular complaint of food sticking between teeth or at specific sites on tooth can be a symptom shown by some.
Foul Taste & Smell: Some patients might have a foul taste in the mouth which might be due to pus drainage from the ailing tooth.
WHAT DOES A ROOT CANAL LOOK LIKE AT DENT ALLY:
The myth about root canals being painful is based on hearsay of people who have actually not undergone a root canal treatment by a specialist endodontist.
Root canal treatment is a pain free procedure and you can be sure of it by visiting Dent Ally - best dental clinic in Delhi where only specialist dentist do every procedure.
When you come in for your appointment, your specialist at Dent Ally, will examine your tooth and take pictures and X-rays in order to diagnose the cause of your problem. Depending on the cause of the problem, your specialist  may recommend a root canal treatment or a completely different and possibly less invasive dental procedure based on the extent of the infection.
WHY DENT ALLY IS THE IDEAL CHOICE FOR YOUR ROOT CANAL TREATMENTS?
Highly trained and experienced team of Endodontists
Dent Ally has the best team of Endodontists (specialist dentists for Root Canal Treatment) who are trained and highly experienced in doing Root Canal Treatment using the most advanced procedures and technology.
Pain Free Treatment
Specialists at Dent Ally make use of additional techniques like small-bore sized needles as well as topical anesthetic spray or gel that lead to no pain during anesthesia administration as well which otherwise might involve pain owing to the prick of the needle.Also the specialists use the right technique of local anesthesia administration that makes the root canal process pain free.
Single sitting Root Canal Treatments
Endodontists at dent ally make the procedure of ven complicated Root canal Therapies easy by there skill and by using advanced technology. Thus needing the least amount of sittings possible to complete the treatment.
Warranty Backed
Given the high standards that we adopt, we are confident in providing 5 year warranty on our root canal treatments.
Least Invasive Holistic Approach
Given our approach of holistic dentistry, our specialists are known in the fraternity and market for saving teeth with least invasive techniques such as bio compatible fillings with pulp protection, rather than going for root canal treatment directly.
Highest Quality Material
At Dent Ally, we use the highest quality materials such as, nano hybrid BPA free composites (for restoration) ad the most bio compatible regenerative intra canal medicaments that not only help in preventing further infection but also helps in restoring and regenerating healthy tooth structure.
THINGS THAT YOU CAN DO TO AVOID ROOT CANAL TREATMENTS
Tooth Brushing: Correct technique twice a day.
Regular professional cleaning
Avoidance of eating sugary and sticky foods
Early action and treatment of tooth decay or sensitivity
Regular visit to your dentist
In addition to proper tooth brushing and maintenance of oral hygiene, visiting a dentist for regular dental check-ups can help prevent oral infections and tooth cavities leading to avoidance of treatments such as a root canal and fillings.
Some other commonly asked questions about Root canal treatments are listed and we have also included our specialist answers to those questions:
I'm worried about x-rays. Can we avoid taking X-Rays for a root canal treatment?
While x-rays are necessary during your endodontic treatment, but now with the advancements in x-ray technology the exposure has been reduced by more than 90%. The technology that we use at Dent Ally has an advanced non-film computerized system called digital radiography with the latest exposure camera units that produces radiation levels up to 90 percent lower than those of already low dose conventional dental x-ray machinery.
My tooth isn't bothering me, why do I need a root canal?
Some patients may experience tooth pain initially and then it goes away on its own or with the help of antibiotics. JUST BECAUSE IT HAS STOPPED HURTING, IT DOESN'T MEAN IT IS NO LONGER INFECTED. Root canal treatment is designed to disinfect the inside of the tooth (the source of infection) and stop the spread of infection.
Some patients may never experience pain with an infected tooth. In fact, many a times,  root canal infection is  discovered through routine radiographs and/or clinical examination. The tooth may have a chronic infection that the body has accommodated enough to not have gone beyond the patient's pain threshold.
At Dent Ally prior to performing any root canal, the endodontist will thoroughly examine all radiographic and clinical findings to determine if a root canal is indicated and explain in detail why it is the treatment of choice.
Would extraction be a better alternative?
Saving your natural teeth, if possible, is the very best option. Complete replacement of tooth should always come second as an treatment option if a tooth can be saved. If your dentist recommends extraction, ask whether root canal treatment is an option that would save it.
From a financial perspective as well, root canal treatment is a cost-effective way to treat teeth with a damaged pulp and is usually less expensive than extraction and replacement via a dental bridge or a dental implant. Endodontic treatment also has a very high success rate. Many root canal treated teeth last a lifetime.Also if incase tooth cannot be saved, replacement as an option always can be done later.
How long does a root canal take?
The amount of time a procedure takes depends on the severity of the infection, the procedure you're having and the type of tooth involved. Approximately, the appointment may last 1-2 hours. The root canal may or may not be a single sitting treatment. At Dent Ally we do the best root canal treatment in Delhi, using the most advanced technologywith the combination of best skill and knowledge. Thus treatment duration is lesser and procedure is made as comfortable as possible.
What happens after my root canal is done?
After a Root Canal Treatment firstly the infection in your tooth is resolved and the ailing tooth starts healing. Also if the tooth structure is comprised, you would be advised to go in for a crown for protection and preservation of remaining tooth structure.
Is it expensive?
Dent Ally with its specialist approach is very economical given the quality of work being delivered. Saving your tooth through endodontic treatment is less expensive and less invasive than an extraction and replacement with a bridge or implant. Also at Dent Ally the best dental clinic in Delhi we provide interest free EMI options for all dental treatments.
FAULTY ROOT CANAL TREATMENT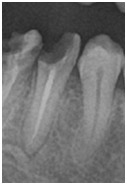 CORRECT RCT DONE AT DENT ALLY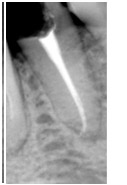 FAULTY ROOT CANAL TREATMENT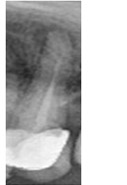 CORRECT RCT DONE AT DENT ALLY