Dent Ally: The New Age Dental Experience
Dent Ally is one of the best multi- specialty dental clinics based in New Delhi. Dent Ally assures its patients a holistic personalized dental experience through its internationally trained team of dental experts, world-class dental equipment and technology and patient-centered treatment plans.
Dent Ally is an Award Winning Multi– Specialty Dental Clinic chain in New Delhi. Dent Ally has been awarded the "Best Dental Clinic in Delhi" at India's Most Trusted Healthcare Awards, 2018.

Given the strict sterilization protocol that is followed at the practice, Dent Ally has been awarded the Sterilization Monitoring Certificate by the University of Louisville.

Dent Ally is known as the Best Dental Clinic in Delhi, India for the following reasons:
Providing personalized care and treatment that is focused on the elimination of the root cause of any problem that patients are experiencing.
Adopting a new age approach to dentistry with the latest technology thereby making the treatment process pain free. Our clinics are equipped with the most modern dental equipment coupled with state of the art sterilization facilities and laboratories.
Dent Ally has internationally trained and experienced specialists for every branch that exists within dentistry and adopts only a specialized approach to dentistry.
Dent Ally is one of the very few practices in the country that follow holistic dentistry. This approach takes into consideration your overall health as your treatment is planned. To know more about why holistic dentistry is important and how we follow it, refer to this section here.
Key treatments that Dent Ally is the most preferred dental provider for within India and internationally are Dental Implants, Full Mouth Rehabilitation, and Smile Designing
Comprehensive Dental Services
All of our treatments and services are provided in a comfortable, handy capped friendly environment.
Advanced Equipment & technology
World class infrastructure
Inhouse laboratory support
Patient centered approach
Unparalleled team of dental specialists
Strict Sterilization Protocols
Maintenance of life time dental records
At Dent Ally, we provide personalized care and treatment that is focused on elimination of root cause of any problem that patients are experiencing.
Our clinics are equipped with the most modern dental equipment including CAD/CAM, OPG coupled with a state of the art sterilization facility and laboratory.
Our team of dentists are highly experienced and internationally trained.
Our team of dentists are known for adopting a new age approach to dentistry with the latest technology thereby making the treatment process pain free
All materials and instruments used throughout the procedure are of highest grade and are internationally certified.
Strict Sterilization protocol is followed for all our procedures. We believe that this approach results in the most superior work which we feel will give you the best treatment results
We have specialists on our team for every specialty that exits within dentistry and only believe in adopting a specialist approach to dentistry. We believe like you would never think of getting a heart surgery done by an orthopedician, then why be okay with taking the risk with your teeth.
We, at Dent Ally, are committed to providing WORLD CLASS TREATMENT in spaciously designed modern clinics where QUALITY and CARE are given utmost importance.
1. LATEST AND MOST ADVANCED INTRA ORAL CAMERA
This helps our patients get a close-up view of their dental work and become better educated about their oral conditions.
We believe in maintaining true transparency with our patients and through this camera we are able to show every step of the dental work that is being completed for the patient.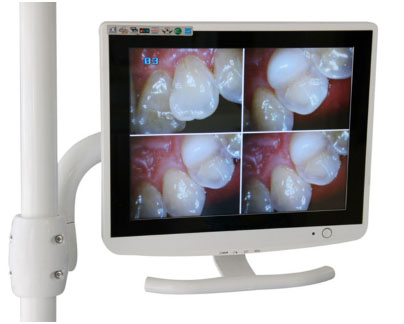 2. BEST INTRA ORAL X RAY FACILITY
This XRay facility exposes our patients to least amount of radiation. It is even safe for pregnant women. This technology allows us the best resolution for full mouth examination. Through this facility, we are able to maintain DIGITALIZED RECORDS for our patients and we store these for a lifetime for all our patients.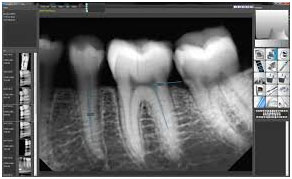 3. FULL MOUTH X-RAY FACILITY AVAILABLE IN HOUSE
Very few clinics have this facility available in house. Dent ally is one of the few clinics in South Delhi to provide this facility under the same roof. This is a 2-D X-Ray that provides a panoramic view of the mouth, teeth and bones of the upper and lower jaws that allows our specialists to recommend a holistic treatment plan.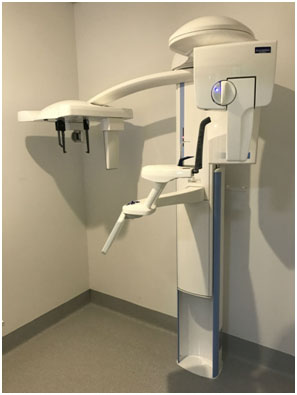 4. STERLIZATION EQUIPMENTS
At Dent Ally, sterilization is taken very seriously.  Every step of the process is followed meticulously and we have the following equipment at the clinic:
ULTRASONIC INSTRUMENT CLEANER:This instrument strips away the contaminants that may not be visible to the eyefrom all the instruments.
STERILIZATION PACKETS: After the instruments are cleaned in the ultrasonic instrument cleaner, they are placed in sterilization pouches that are sealed and change color when they are fully sterilized, thus enabling the patient and the dentist to be sure of the sterilization of the instruments.
B TYPE AUTOCLAVE: We use the most advanced autoclave thus ensuring us complete sterilization. The instruments packed in the sterilization pouches are placed in the autoclave where they are sterilized.
UV CHAMBER: From the autoclave, all instruments are placed in the UV chamber for storage in a sterilized environment.
Dent Ally has been awarded Sterilization Monitoring Certificate
by University of Louisville and American Dental Association.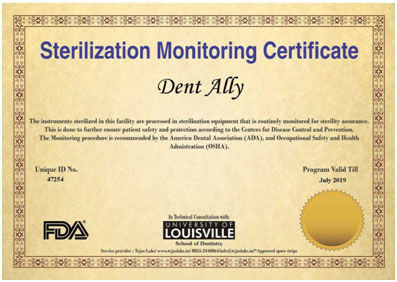 The first thing that i had in mind was....should i see a dentist ever or is it just not required as according to me i have kept my teeth well in shape n hygiene....But the problem began with a slight sensitivity and gradually landed up with caries in multiple teeth... After ignoring it for months ....one fine day a friend told me about this Dental Clinic near my place and just to start i made an appointment. The anxiety of being in a Dental chair was running down my spine until i met and had a consultation with Dr Shashi.... He has a zeal to treat n totally satisfy his patients to a level that....there was i moment when i said..."I am satisfied with the work done doc" but he said "Mam.... i can do better so please wait"....and he made sure that i was not only made comfortable but also got the desired results... The whole team at DentAlly is really full of positivity,passion and compassion towards the patients....be it the Receptionist who welcomes all with a smile....the Doctors...who actually treat u and the Managing Head Mrs Gauri who makes sure nothing is left imperfect. Am glad to have visited Dent Ally and would highly recommend to all people looking for a place where u can actually be treated as per expectation.
Mansi Mehra
Dent Ally gave me my smile back at an age I never thought I could correct it. They did my orthodontic treatment using the latest methodology of invisible braces. My treatment is still ongoing and I have never had any doctor and staff being so concerned about my health as the staff at Dent Ally are. They have the best and most experienced orthodontists and a great ambience. Dent ally is one of the best dental clinics in Delhi that I have ever visited.
Shekhar Nainwal
Dr. Shashi and his team at Dent Ally are truly the best dentists in South Delhi. They take a new age approach to dentistry using their latest dental equipment and technology. The root canal was pain free and the dentist completely relieved me of the pain that I was facing earlier. Keep up the great work guys!
Deepak Rawat
Great experience. I got my grandfather's dentures done at Dent Ally. Best part is that as compared to his previous dentures with which he could not eat most of the food items, with the set of dentures that Dr. Shashi gave him he now enjoys all his favorite food items. I thank Dr. Shashi and his team at Dent Ally for making his experience so wonderful. They are by far the best team of specialist dentists I have visited in Delhi.
Indra Dev Choudhary
I visited Dent Ally for correcting gaps in my front teeth. I always had a fear of dentists and hence avoided going to a dentist. One of my friends recommended Dent Ally and Dr. Shashi. Dr. Shashi removed all my fears of going to a dentist and I am now fully satisfied with the result. I wanted a quick solution to my gaps rather than going in for a long orthodontic treatment. The quality of work that Dr. Shashi and his team deliver is truly exceptional. Another great thing is that they are so confident about the work they deliver that they provide a warranty of 10 years on the treatment. I can now smile without feeling conscious any more. It is such a great feeling! Thank you Dent Ally. I would strongly recommend Dent Ally as it truly has the best team of dentists in Delhi.
Sally M
I got my implants treatment done at Dent Ally. The patient centric approach that was adopted at Dent Ally was a complete differentiator. I was advised implants keeping in mind my specific need and condition rather than the brand of the implant. This clinic truly stood out from the other clinics that I have visited in South Delhi and would recommend this dental clinic to everyone looking for personalized care and quality treatment.
Abhishek Borthakur
As soon I entered I was sure that I landed to the best dental clinic in south Delhi. This would be one of the best dental clinics I have ever experienced in my life given their soothing ambience and convenient location. I had my front teeth missing and had got a fixed bridge treatment done before which had led to decay and fracture of my natural teeth. At dent ally, Dr. Shashi advised me to get implants to replace the missing teeth. I followed his advice and am very happy and satisfied that I agreed to the treatment. He also saved and restored my fractured teeth. Thank you for Dr. Shashi and Team dentally for giving my smile back in a single day.
Atul Kumar Choudhary
No dentist was ready to treat me because of my recent history of oral cancer and radiotherapy, until I went to Dent Ally where Dr. Shashi Bhushan and his team instilled confidence in me, confidently agreed to treat me and I am now fully satisfied with my treatment. I had infected tooth pieces in my upper jaw and as a result was not able to eat food properly. Dr. Shashi and his team extracted them and followed all the necessary protocol given my past histroy. They advised me exercises to widen my mouth opening and even gave me an instrument to wear. They worked with me to improve my condition and brought me to a state where they were able to provide me with dentures with which I am happily eating now. They provided me treatment at a time when I needed it the most, actually worked with me like a partner in my journey and have provided me with teeth that I thought I could never get. Their team is the most dedicated and committed team of dentists in Delhi I have ever come across. More than the treatment, what I really appreciate and will remember for life is the time they spent with me and the confidence they instilled in me to maintain and improve my oral health. Thanks to Dent Ally, Dr. Shashi and his best team of dentists for treating me.
Laxmi Kafle
the experience was very good at clinic... got my grandparents treatment done... they were very happy after the treatment.... overall i am very satisfied with the doctor and their team for giving my grandparents such a wonderful treatment and removing there fear for dentists...
Aditya Mishra
A friend referred me here. Very friendly staff that constantly followed up with me regarding my appointment. Dr. Shashi did a complete check up and made me understand the present situation of my teeth and gums and what problems may arise in the future and helped me understand how to go about it before it may become a big problem. Dr. Charu then performed all the required steps to correct the problems. Almost a month into the treatment taken back then and I'm very satisfied with the results. May even switch my family doctor to them since I'm not exactly from town and have to go back to hometown for my regular check ups. One to one interaction with educating me with the details of my problems, good treatment, follow ups and state of art facilities - I don't find any reason to not give them less than a five star rating. Cheers! Keep up the good work!
Mohit Madan
I am a retired naval officer entitled to ECHS treatment. I was facing a lot of difficulty in eating because of my past crown and bridge treatment at an ECHS paneled clinic. I visited a lot of clinics and was recommended extraction of teeth which I was not willing for. Then a family friend recommended Dr. Shashi Bhushan and Dent Ally dental clinic. Dr. Shashi saved all my teeth giving me new crowns and bridges with which I can eat properly and in comfort. The environment of the clinic is so clean and hygienic that I was sure about getting my treatment done here only. It is truly one of the best dental clinics that I have visited in South Delhi and has in place a team of the best dentists.
Ashwani Mehra
Extremely Good hygienic and attractive clinic was my first reaction after visiting Dent Ally Dental Clinic in Delhi. Some Smile correction veneers were advised to me earlier for tooth gap and for that I came to see Dr Shashi Bhushan supposedly to be one of the top in cosmetic and Smile correction dentist, as I was highly impressed after watching his work on Facebook pics. I got last appointment of the day so was sort of reluctant that doctor would be to tired after complete day and would not be wise to get work done in such a slot. But his energy revealed it all and in a short time my front tooth gap problem was all solved to best of what I can not ever imagine in my life. Veneers were too perfect and gave life like appearance.
Amit Thakur
Got my dental implants done at DENTALLY. It was an amazing experience right from entering the clinic till the completion of my treatment. Didnt feel like I was at a dental clinic, infact felt totally relaxed & comfortable. The staff & doctors were very welcoming and patient with all my queries. Special thanks to Dr Shashi Bhushan & his team for the great work. I would recommend dentally to all and rate it as one of the best dental clinics in Delhi.
Ravi Gupta
One the best Prosthodontist in the heart of the capital must visit
VARUN GUPTA