There can be numerous reasons that can lead to loss of a tooth. The top reasons being Trauma, Improper Oral Hygiene, Gum Diseases, Uncontrolled cavities or Underlying systemic diseases such as diabetes etc.
We at Dent Ally, dental clinic based in Green Park and Vasant Kunj and awarded as best dental clinic in Delhi advise the following measures for maintaining good oral hygiene:
Proper Brushing: Brushing your teeth everyday, at least 2 times a day for a minimum of 2 minutes and adopting the right technique works best to clean your teeth.
Good diet: Having a good diet helps in maintaining good oral hygiene. For example, food with high sugar amount which are sticky in nature will lead to negative effect on teeth, leading to cavities whereas consumption of calcium may strengthen your teeth.
Use of correct mouth rinses: This does not mean you can use any over the counter available mouthwash. But use of the specific mouthwash (mouithrinse) needed for your teeth and advised by your dentist.
Periodic oral health checkups: Every 6 month oral health check up with your dentist to ensure you are maintaining the right oral hygiene and if any problem is there, it can be attended to at its earliest.
While following the above measures will help in prevention of loss of teeth; however a common perception is that even if a tooth is lost , there are 31 more which can perform the needed functions.
However, what most people don't know is that each tooth has a different function.
To learn more about the function of each tooth, you can refer to our blog here.
https://dentally.in/know-your-teeth/
The purpose of this blog is to help build awareness of how loss of 1 tooth can impact 5 other teeth and thereby affect the functioning of your entire mouth.
"Losing 1 tooth is a compromise of 5 teeth"
1 ╘ 5 then why should we end up making 1 = 5?
Consequences of tooth loss: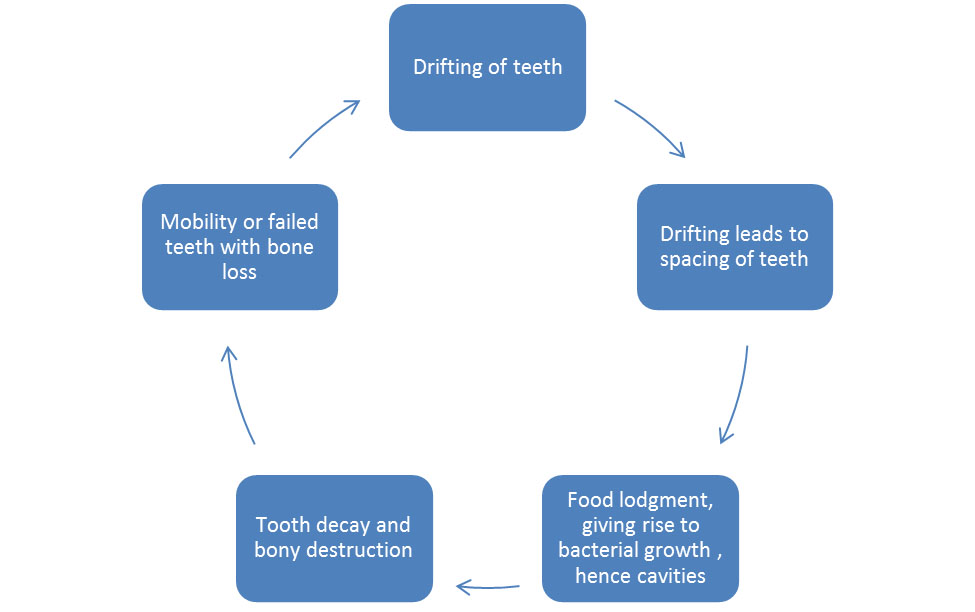 See above picture to understand and visualize how loss of one tooth can affect the functioning of the entire mouth.
We, at Dent Ally, best dental clinic in Delhi, India in Green Park and Vasant Kunj have a team of specialists who are trained and experts in providing in all types of replacement options and have successfully given healthy smiles to a number of patients.
Dent Ally Is Listed As One Of The Best Dental Clinics In Delhi And Is Known For Its Known For Its Team Of Specialized Dentists. Dent Ally Is Equipped With Latest And State Of The Art Equipment And Technology. Dent Ally Has Two Centers In South Delhi, India Gulmohar Park (Near Green Park And Hauz Khas) And Vasant Kunj.